Programs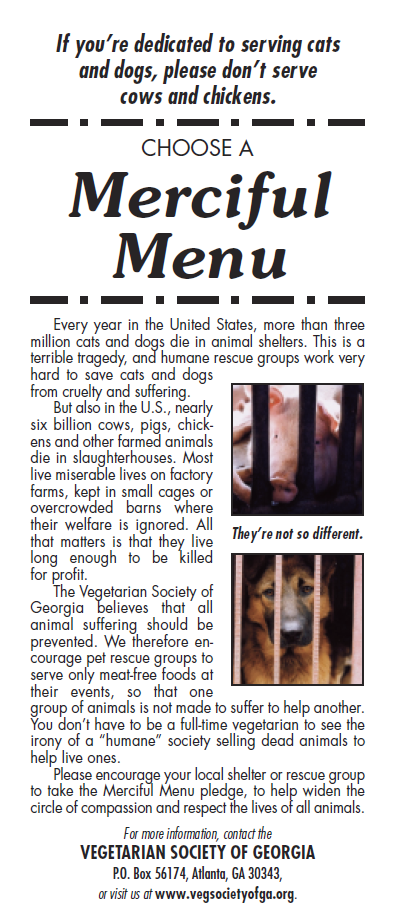 GAveg promotes healthy, humane living in all walks of life. Because we are an all-volunteer group, we try to focus on areas where we can do the most good. If you would like to help expand or start a program, please let us know – we'd love your input and support!
For now, here's what we're working on:
Merciful Menu Campaign
Our Merciful Menu campaign is based on the philosophy that helping some animals shouldn't result in hurting others. We believe that farm animals are just as deserving of respect and compassion as companion animals. It seems odd, if not downright hypocritical, for an organization that claims to care about the lives of cats and dogs to seem to care little about the lives of other animals. Therefore, we strongly encourage humane societies, shelters and rescue groups to serve non-meat foods at their events. To us, it makes no sense to save dogs and kill pigs, or help cats but hurt chickens.
We are reaching out to humane societies across Georgia to ask them to pledge to serve vegetarian (and preferably vegan) foods at their events. We will publish a list of organizations that do so, so their members and the public will know they are fully committed to animal welfare.
We have flyers that explain our campaign, which you can download here.
If you would like to help, send a flyer and/or write a letter or attend a meeting of your local group and gently explain why true compassion knows no bounds. Even people who aren't (yet!) vegetarian or vegan can understand why organizations that promote kindness to animals should publicly avoid such conflict of interest. It can only strengthen humane efforts when we make an effort to be humane to all!
For more information on how you can help, (Please enable JavaScript to view this email address).
We would also like to compile a list of restaurants and catering companies that will offer discounts to humane societies who hold meat-free events; if you can help with this, too, let us know!
Earth Day
We are often asked to provide materials or staff booths at events related to Earth Day each April. As we note on our Environment page, reducing or eliminating meat consumption is a huge way of helping the planet. We are happy to help spread this message year-round; please contact us for ways you can reach out to environmental groups.